'Mist fills the Himalayan valleys, and monsoon rain sweeps across the hills. Sometimes, during the day, a bird visits me—a deep purple whistling thrush. She perches on the window sill, and looks out with me at the rain.'
These are the opening lines of 'A book of simple living', another instance of the great Ruskin Bond weaving magic with his words. The legendary Anglo-Indian writer known for his beautiful stories set along the Himalayan foothills, has till date written more than 500 books across fiction and non-fiction categories spanning across a 7 decade long writing career. Need I say anything more?
Little heartwarming stories, majorly set in the picturesque hilly areas are a treat for readers across the country and abroad. Precise, clear and descriptive, his writing style is fairly simple yet impactful, or maybe it ends up creating an impact because of its simplicity. Words and emotions stay with you, making a tiny home in your heart as you go on reading one Bond book after the other. It would be an understatement to call it an equivalent of a beautiful magical piece unfolding right in front of your wide open eyes.
Writing has never been a chore for the master, as he spoke about it at length in one of his recent interviews. The thing which mattered the most for him was (and still is) to be able to enjoy his writing, may it be fiction, memoirs or poetry. A basic yet highly significant point to be noted.
Born on May 19, 1934 in Kasauli, Punjab States Agency in British India, Bond developed a fascination for the artform from a very young age. He lost his father at the age of 10 and lived with his stepfather thereafter, which gave him many life lessons. He wrote extensively while still being a kid and won several writing competitions at his school.
Post schooling he went abroad to his aunt's place in the UK, where he wrote his very first novel named 'The room on the roof'. It was influenced by his experiences and stories of the time he spent back in Dehradun and his small rented room on the roof. Thereafter Bond returned to India. He continued doing freelance writing for newspapers, magazines, etc. He shifted his base to Mussoorie. Post 1980s Penguin got set up in India and by the next decade Bond published his 2 novels through the publishing house (his very first work 'The room on the roof' and its sequel 'Vagrants in the Valley' which was also penned by him decades back). Eventually he went on to write more than 500 books spanning across formats but bound together by his maddening passion and love for the art of writing.
Nooks and corners of Himalayas where he spent his childhood and growing up years are visible in his writings. His text is characterized with pure optimism, solitude, beauty and a sweet childlike innocence. His books are vastly popular amongst children. On the same, Bond had once commented "I had a pretty lonely childhood and it helps me to understand a child better." He also went on to say that he tries to strike a positive note when writing for children and feels a certain responsibility as an author. "In India, not enough importance is given to writing for children. And what could be more important than the enrichment of young minds with great literature? This is when we discover ourselves, our own potential, and, more often than not, we'll do it through what we read and write", he added. His first children's book named 'Angry river' was published in the 1970s. And then opened the floodgates.
'Our trees still grow in Dehra', 'Roads to Mussoorie', 'The Night train at Deoli', 'Rusty, the boy from hills', 'Rain in the mountains', 'Delhi is not far', 'Time stops at Shamli', 'Tales of Fosterganj', 'The Cherry tree', 'The tree lover', 'A book of simple living', the list goes on and on and on. His novels 'A flight of pigeons' and 'The blue umbrella', both got adapted into films. Bond's favourite genres (formats) happen to be essays and short stories.
Other than the countless number of laurels and accolades received in India and abroad, he has been bestowed with the highly prestigious Sahitya Akademi award, Padma Shri and Padma Bhushan. The Indian Council for Child Education has also recognised his role for the growth of children's literature in India.
His vast endless body of work is a must read for children and adults alike. It teaches you the importance of love, warmth, beauty and everything that you need to live a quiet, contented, happy life. The world seems to be a better place to reside while holding a Ruskin Bond book in hand and smiling innocently as you turn one page after the other.
Let the 80 something little boy give you a few words of wisdom. "Book readers are special people, and they will always turn to books as the ultimate pleasure. Those who do not read are the unfortunate ones. There's nothing wrong with them; but they are missing out on one of life's compensations and rewards. A great book is a friend that never lets you down. You can return to it again and again and the joy first derived from it will still be there."
So when are you picking up that one little bundle of happiness, to begin with?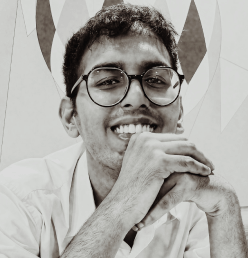 Himanshu Nimbhorkar
Himanshu Nimbhorkar works as a freelancing assistant director on feature films, has written a yet to be aired television show, and independently writes and directs shorts (fiction as well as documentaries).
He has previously got his work screened at the prestigious Mumbai-based MAMI Film Festival, Los Angeles-based Lift-Off Sessions, etc.