A true artist can showcase his skills and competence at any place, and art can be found everywhere. In addition to being displayed in upscale galleries and exhibitions, art can also be seen on walls, automobiles and trucks, clothing, and, of course, paper.
Inscriptions on the wall served as the first forms of art and a simple form of communication. Before alphabets and languages were discovered, humans communicated by drawing on the cave walls. But art has changed and advanced significantly over time. We adorned our spaces with works of art and even used them to express ourselves.
It is still used to communicate feelings and emotions that cannot be put into words and convert about our personality in ways that we cannot even wonder. India is a diverse country that is famous for various kinds of art.
Here are some wonderful art forms of India that are famous all over the world and are extremely difficult to master.
1. Madhubani Paintings: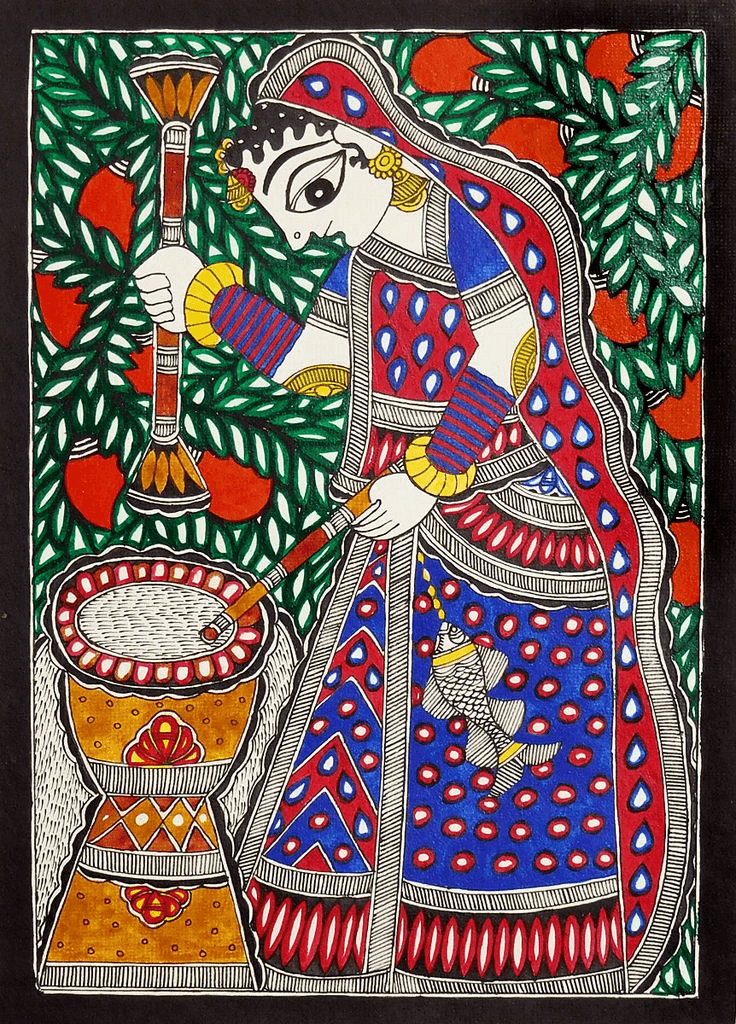 Madhubani art originated in the state of Bihar, notably in the Mithila region. Originally, the designs were made with rice paste and natural hues derived from flowers like roses, marigolds, henna leaves, bougainvillaea and so on. Artists depicted scenes from the natural world which included human beings, animals, trees, and flowers. The simple and beautiful artworks were painted with the help of bamboo sticks. The artform has now modernised as artists have now started painting intricate designs on wooden planks, paper, and cloth with ink pens and other sharp objects to give it a more contemporary appearance.
If you wish to make Madhubani paintings at home, start with the use of simple sketches and patterns as shown in the video. Once you gain confidence with this form of art, move onto more symmetrical and intricate designs.
2. Miniature Paintings: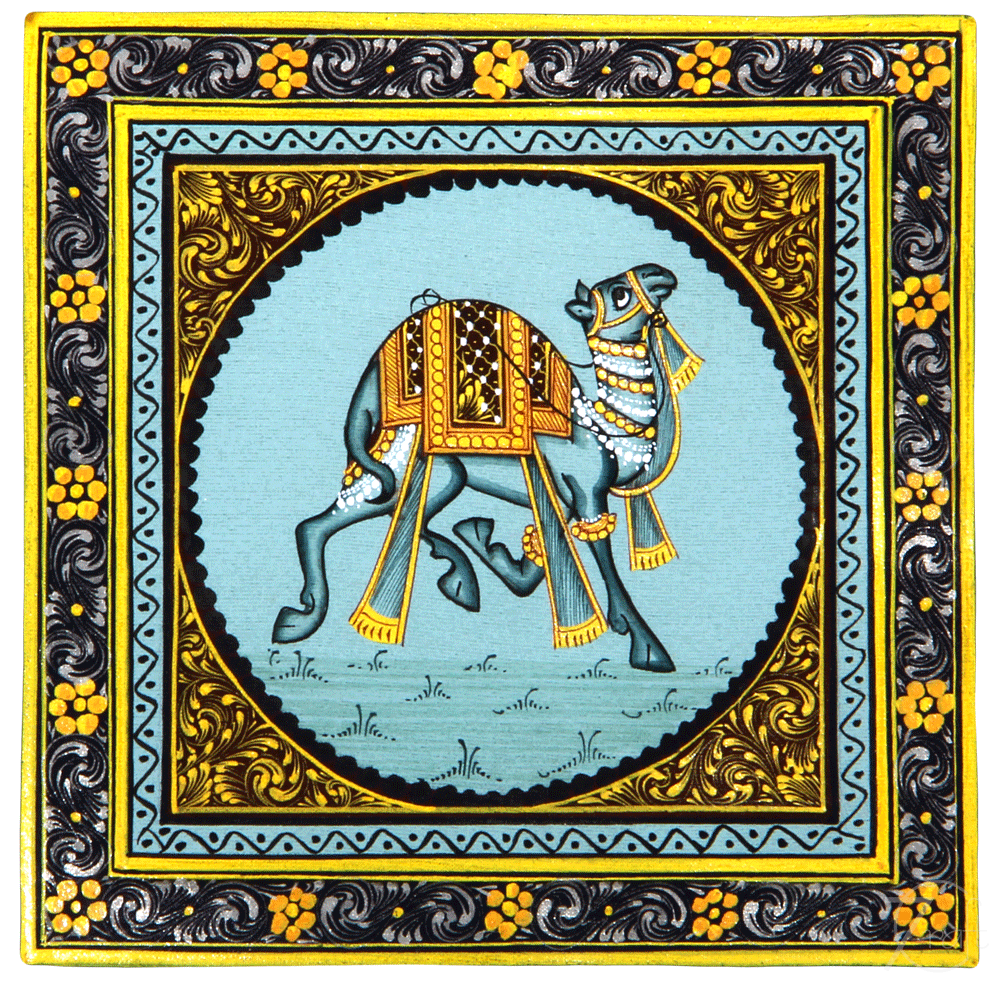 Indian culture was originally exposed to miniature paintings by the Bengali Palas. More intriguingly, these artworks used episodes from Buddha's life as shown on palm leaves to impart his teachings. Artists used intricate brushstrokes to depict scenes using leaves and linen. By giving this art form a Persian and a European twist to show current events, court proceedings, and cultural life at the period, the Mughals utilised it.
Start by practising simple miniature landscape designs. Once you gain a strong grip, start practising intricate designs on a larger paper and then reduce the size of canvas gradually.
Fun Fact: Babur was the first ruler to use this style of painting in his autobiography. Jehangir introduced scientific correctness to the style.
3. Kalamkari: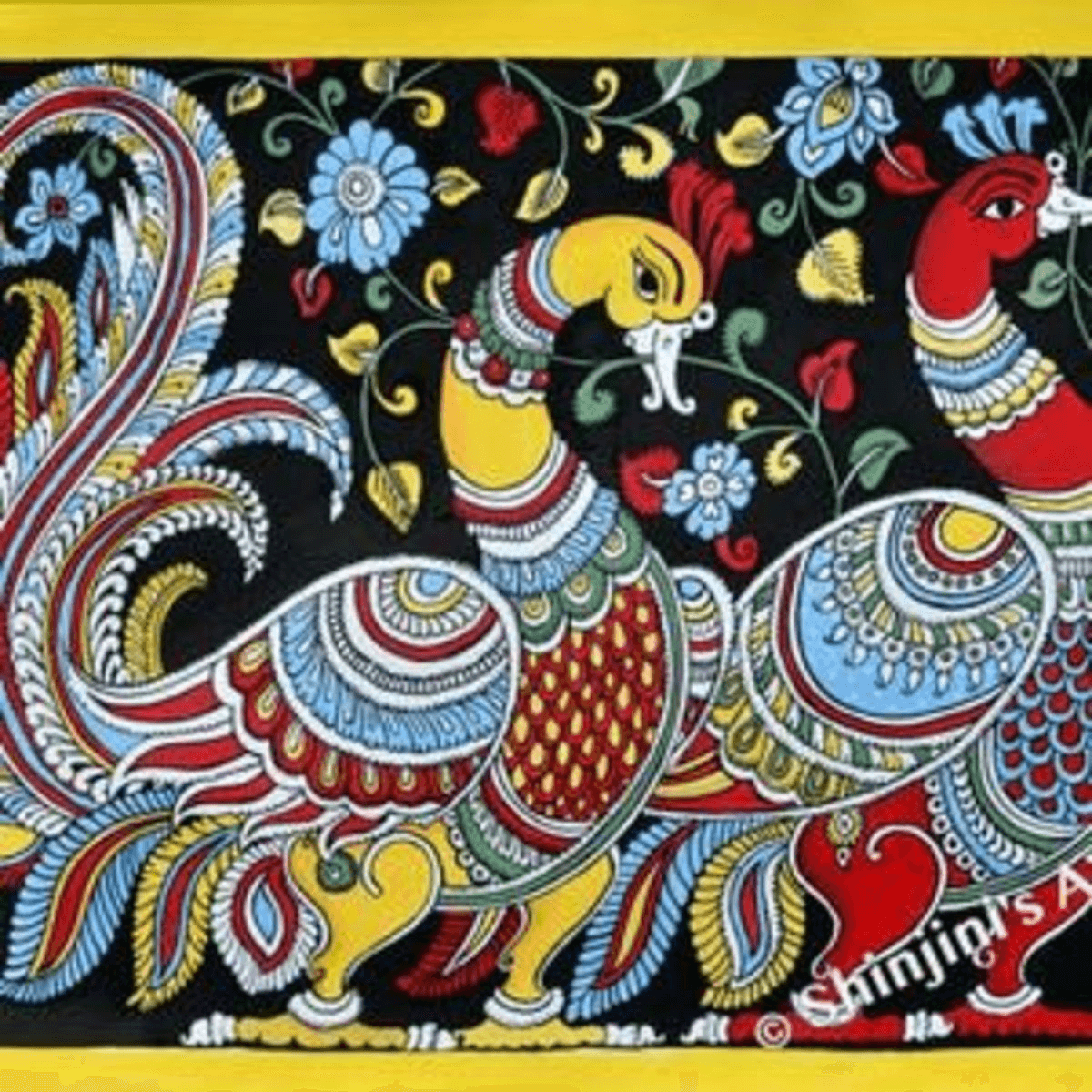 The state of Andhra Pradesh proudly supports the art form of Kalamkari. The two main varieties are Machilipatnam Kalamkari from the Krishna district and Srikalahasthi from the Chittoor district. This stunning work of art is ageless and occult. One such pattern liberally used in Kalamkari paintings is the Tree of Life. Kalamkari artists began illustrating scenes from the Mahabharata, Ramayana, and Bhagavatam. Freehand drawing or block printing on fabric can be used to create this detailed form of painting, but both require high levels of precision.
The word 'kalam' stands for pen, therefore, it basically means artwork done with a pen. Therefore, if you wish to be a kalamkari artist, start by working with sketch pens and draw simple patterns on an art file.
Fun Fact: The main design is traced with charcoal sticks and a bamboo pen dipped in black kasimi liquid. The dye is extracted from natural vegetables.
4. Tanjore: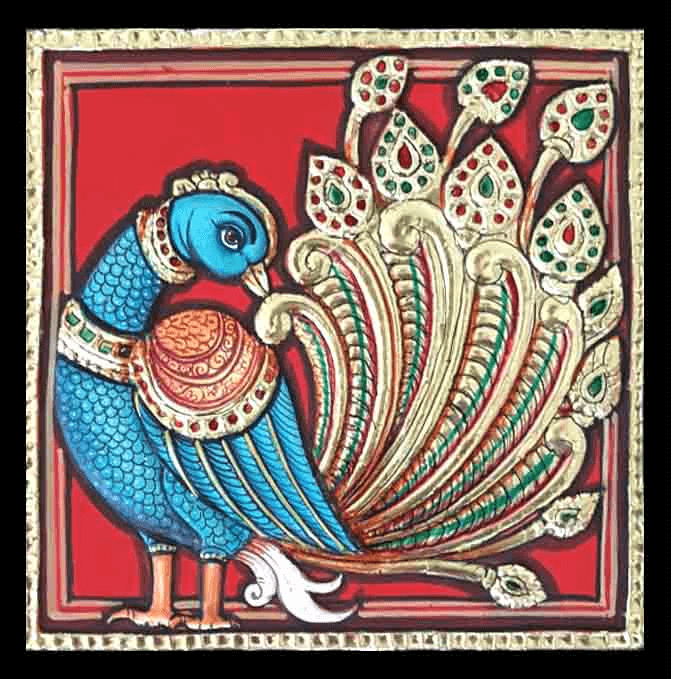 The characteristic South Indian painting style, also known as Thanjavur paintings, originated in Tamil Nadu, and eventually expanded to the state of Andhra Pradesh. Tanjore paintings are characterised by their eye-catching embellishments, eye-catching colours, and elaborate designs with gold and silver accents. Tanjore paintings are for maximalists who like intricately composed depictions of Gods and Goddesses with arches, drapery, and decorative borders. To learn this intricate artform, take a portrait and start experimenting with artificial embellishments. You must learn about colour theory to gain knowledge of complementing and contrasting colours before you start drawing portraits on your own and decorating them.
Fun Fact: The painting style is associated with the Vijayanagar Empire as the rulers were great patrons of art and culture.
5. Pattachitra: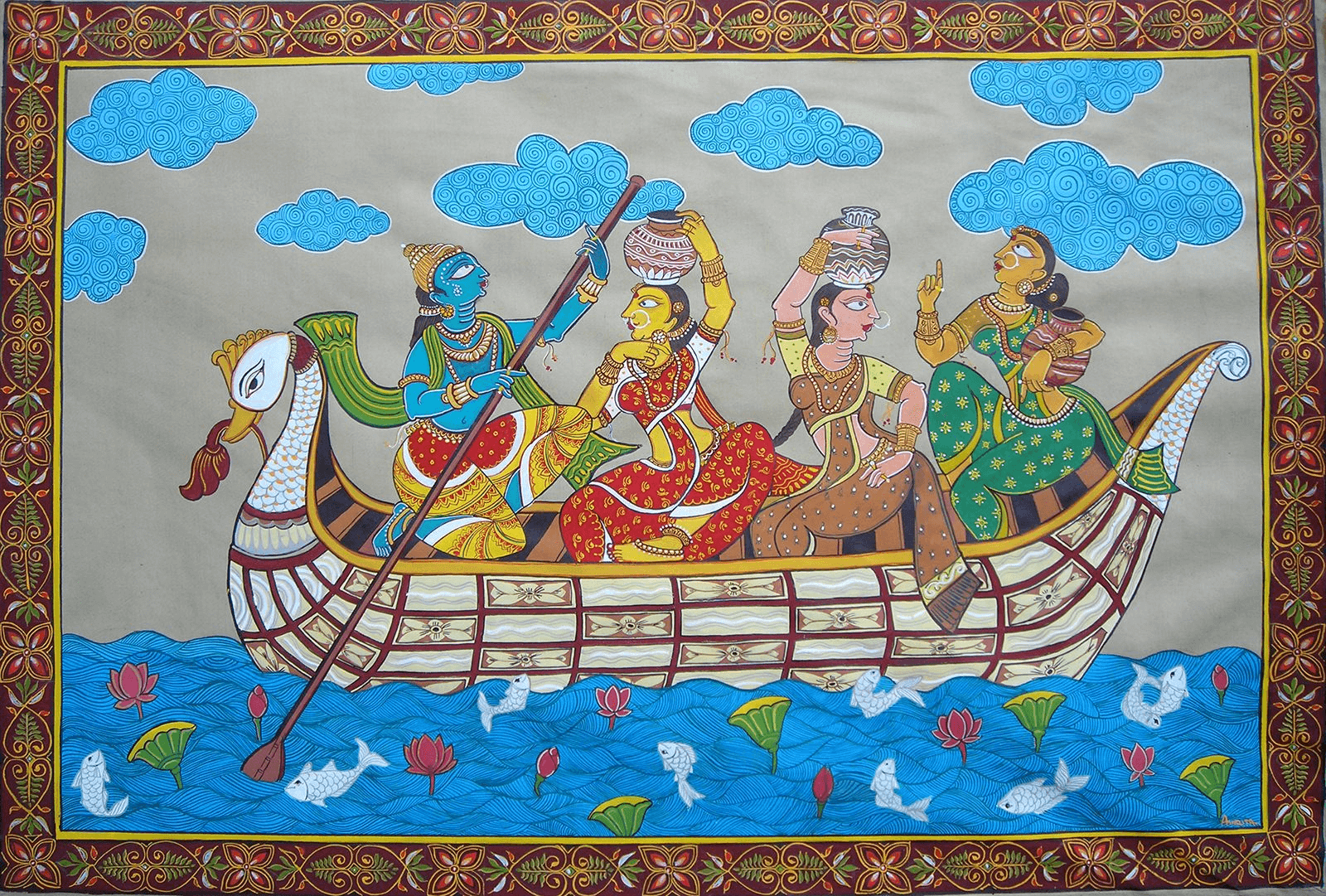 Pattachitra is well known in West Bengal and Odisha. Pattachitra is renowned for presenting folktales and mythological scenarios painted on paper, linen, and palm leaves. These cloth-based scroll drawings were discovered in 5 BC and were influenced by Lord Jagannath, a manifestation of Lord Krishna. When the three Lords of Puri Dham—Jagannath, Balabhadra, and Subhadra—get sick, people worship these paintings. Sayera Chitrakar, one of the most well-known and accomplished Pattachitra artists, has resurrected the ancient art form, which has been modernised and can be seen on mugs, artefacts, and even jewellery.
The art of pattachitra can be practised on any surface. Therefore, you can start working on recycled paper plates, peepal leaves, old cloth bags, used coffee mugs and so on.
Fun fact: The Pattachitra art style is an Odisha tribal art. Raghurajpur village is well-known for its Pattachitra paintings.
6. Phad Paintings: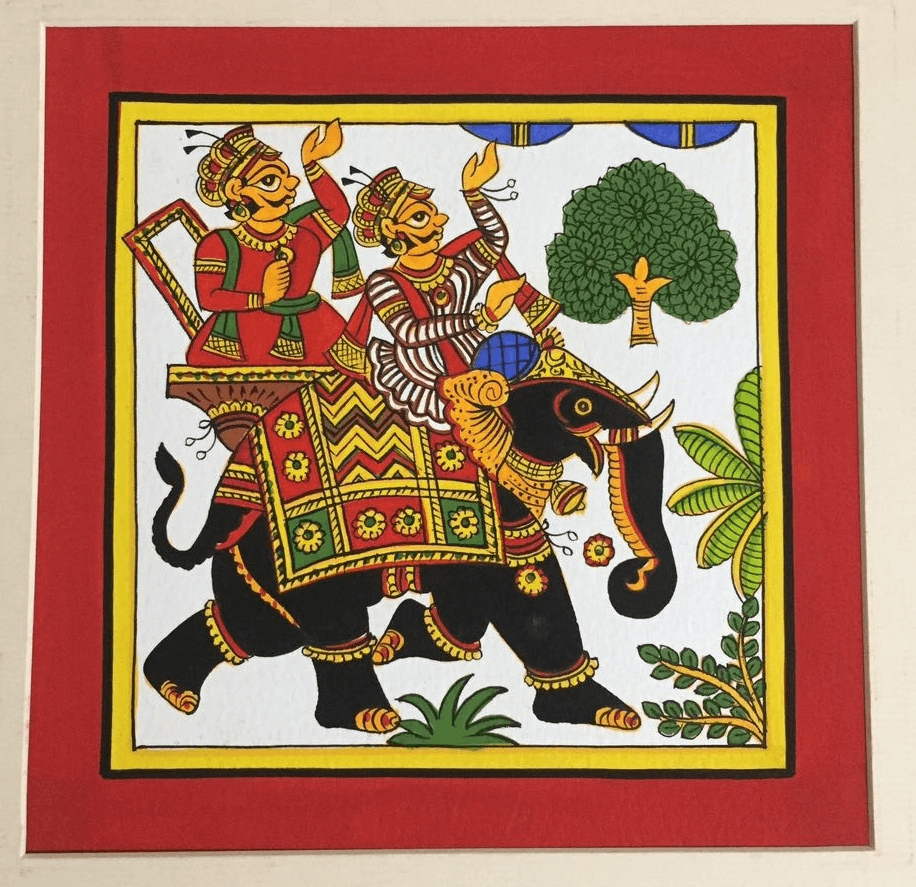 The seven-hundred-year-old technique of painting from Bhilwara region of Rajasthan originated 700 years ago. The paintings offer a pictorial depiction of local religious deities. The most interesting fact about these paintings is that these paintings are treated as temples themselves. Therefore, when an artist is travelling with the artwork from one place to another, the works are treated as "mobile temples". The story depicted in the paintings are accompanied with a procession that dances as well as sings. For beginners, start sketching simple elephants and half faces. Phad paintings can be mastered by simply maintaining consistency and by neatly working on simple figures. Once you gain confidence with individual elements, you can bring it all together beautifully in a single piece.
Fun Fact: The state of Rajasthan is a treasure trove of paintings. Origin of art forms like Kajali paintings, Gemstone paintings, Pichwai paintings, and Bhitti Chitra paintings can be traced to this state.
Conclusion:
Art has always been a way for people to express their feelings and ideas. People who don't express their emotions out loud can nonetheless do so through art. Through the arts, you learn how to be patient, resilient, and sympathetic to others. It enhances your capacity for creativity, hones your memory, and instils in you the value of close attention to detail. Since there is no right or wrong way to create art, it can be a lot of fun to modernise traditional forms and add your own creative touches. So, explore the world of art and let your creative side take the lead.