Tell Ur Tale – Mystery Special
A one of it's kind Story-Writing Challenge for 9 - 15 Year Olds !
Narrate / Write a story on our specially designed themes or your original story!
Stand a chance to win exciting prizes and certificates!
Get your child's story published!

June 5th, 2022
09 to 15 Years
Important Things
That You Need to Know!
Tell your kids to write a story based on our specially designed themes or any original story!
Our experienced judges will select the top 3 best submissions!
Every child who participates will be awarded a "Master Storyteller" Certificate
and a chance to get his/her artwork published! Excited? 🙂
Level

Basic

Participants from

500 Cities
A picture is worth a thousand words!
Visual prompts make us think of different story plots.
A picture of a mountain may inspire a gripping tale of lost and
found or an emotional tale of shrinking habitat for animals!
Put on your Writer's caps and weave a story based on our
specially curated Visual themes for this month'sTell-Ur-Tale Contest!
Let us know what your chosen visual prompt inspired you to write!
9 to 15 Years
Create a story using any one of the Visual prompts for your age category or send us your original creation
How to Submit Entries
From Confirmation to Submission in 3 Clicks!
Easy to Submit Entries through our specially created links for upload!
Step 1
Pay Registration Fee & Fill the Registration Form
Step 2
You will receive an automated email with Guidelines and the Upload Link
Step 3
Click on the Upload link in the email to Submit your Entry as per the age group!
Last date of
Submission

Date of Result
Declaration

Digital certificates &
gift cards

Date of magazine
publication
Prizes
Exciting Prizes to encourage our wiz kids!
1st Prize
Gift Card ( ₹800) + Medal + Physical Certificate
2nd Prize
Gift Card ( ₹500) + Medal + Physical Certificate
3rd Prize
Gift Card ( ₹300) + Medal + Physical Certificate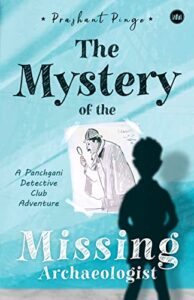 Additionally for top winners
An autographed copy of The Mystery Of The Missing Archaeologist' by Prashant Pinge along with a video interaction with the author.
Frequently Asked Questions
We're here to help make your journey as seamless as possible and
answer any questions or concerns you may have.
The language of submission is English.
Any child who is aged between 9 years - 15 years can participate.
You are absolutely right! While the imagination of a 9 year old may easily rival that of a 15 year old, we are creating a level playing field. We have created 2 age categories ( 9 - 11 and 12 - 15 years) and each category will be considered separately.
Yes, For age groups 9 - 11 , 12 - 15 Kids have to write the story.
Yes - we encourage parents to help their kids in developing the story. But our advice is to let the kids' imagination remain primary - we all know that our children can imagine stuff way better than we can! (In both cases please ensure you also submit a typed word document that is needed for publication in the magazine)
Every story will be evaluated on a combination of 5 factors - Creativity, Originality, Grammar & Spellings, Flow and Structure.
9 - 11 , 12 - 15 Years Old: 500 - 1000 Words
Yes. Your child can use any one of the given visual prompts given for his/ her age category.